---
Top of the South Island 18 July 2023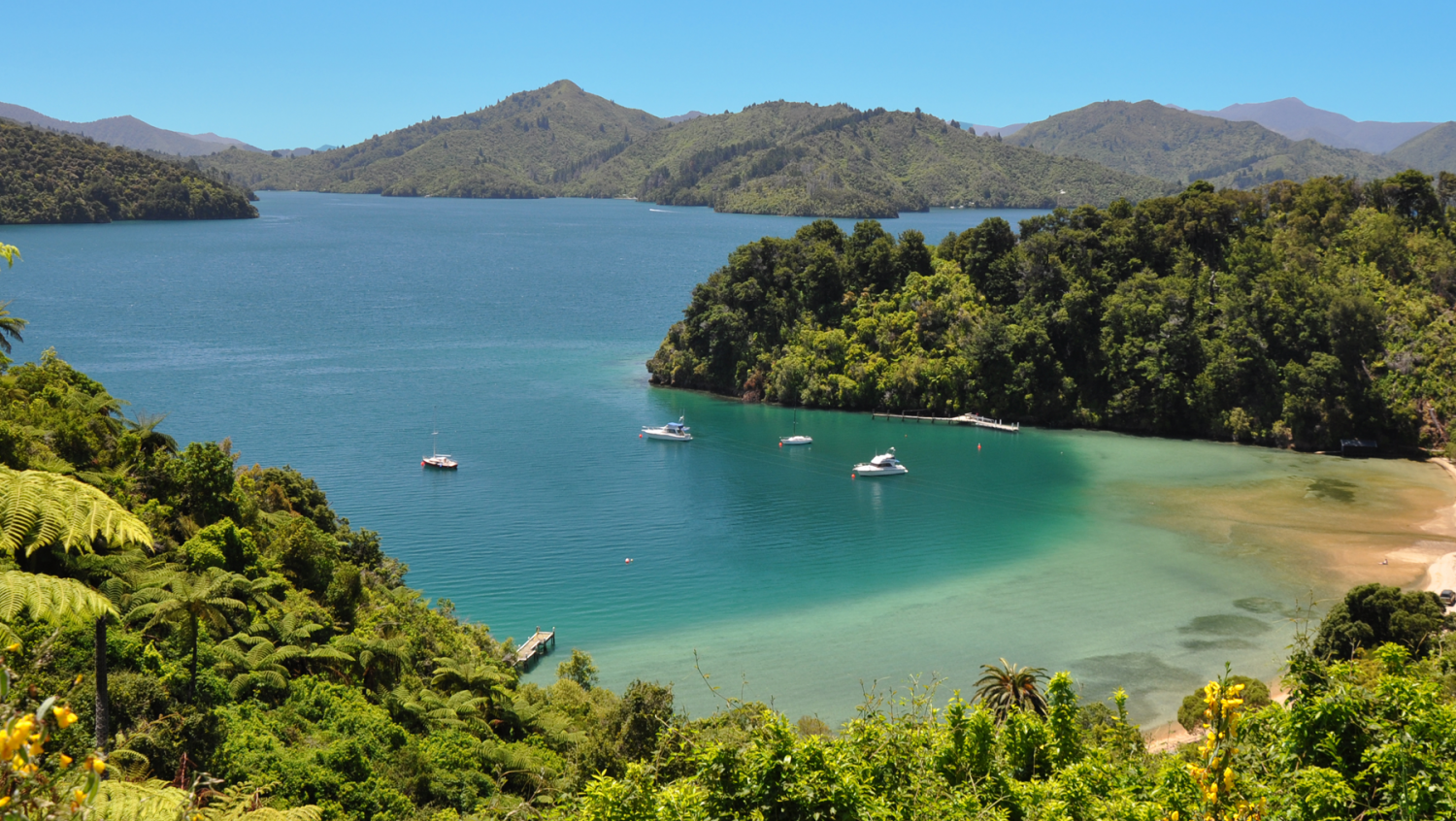 Marlborough - How's the serenity!
Marlborough is the perfect place for relaxation or adventure, in every season. Discover long hot summers and blue-skied winters, from alpine peaks to the Marlborough Sounds and enjoy gourmet food and world class wine in rustic vineyard restaurants.
Marlborough has 20% of New Zealand's coastline, woven through the beautiful Marlborough Sounds, and nearly 80% percent of its wine industry, stretched across the valleys. Seventy percent of New Zealand's Greenshell Mussels and 75% of New Zealand's farmed salmon also comes from Marlborough.
Experience the Marlborough region on our 11 Day Top of the South Island tours.
BLENHEIM
Marlborough's main town, Blenheim, has great cafes, galleries and shops wrapped up within the picturesque Taylor and Opawa rivers, a short distance to the region's world famous wineries.
Whilst in Blenheim, visit the Omaka Aviation Heritage Centre, home to one of the largest private collections of WW1 Aircraft, brought to life in sets created by the internationally acclaimed WingNut Films and Weta Workshop.
Take a short drive to Cloudy Bay Estate. Established in 1985, Cloudy Bay is one of the original wineries in the Marlborough region. Enjoy a personalised wine tasting experience followed by time to wander through the superb, manicured grounds and towering gum trees.
Cloudy Bay Estate
PICTON
Nestled in the heart of the Marlborough Sounds, Picton is a beautiful port town, poised at the edge of the Queen Charlotte Sound, and is home to fantastic cafes, restaurants, galleries and specialty shops.
Picton Foreshore
MARLBOROUGH SOUNDS
The Marlborough Sounds is made up of four distinctly different Sounds - Queen Charlotte, Kenepuru, Pelorus, and Mahau, at the top of New Zealand's South Island. The winding waterways of the Marlborough Sounds make for brilliant cruising and wildlife viewing including dolphin watching.
At Picton Marina, board a luxury vessel and cruise the spectacular Queen Charlotte Sound. Enjoy the pristine landscape, so fresh to the eye and so demanding on the heart. Crystal clear turquoise water, lush tree fern forests, secret and secluded beaches and coves never end in this incredible environment.
Stop at Furneaux Lodge and enjoy a delicious lunch followed by time to enjoy the peaceful surroundings. There is access to kayaks and short walks around the property. On the return cruise to Picton a cheese platter featuring local produce is served accompanied by a glass of Marlborough wine, the perfect end to your Marlborough Sounds adventure.
Queen Charlotte Sound Cruise to Furneaux Lodge
Experience Marlborough on our 11 Day Top of the South Island itineraries:
11 Day Ultimate Top of the South Island tour
11 Day Signature Top of the South Island tour
> Read More