---
Ultimate Small Group Touring 26 May 2022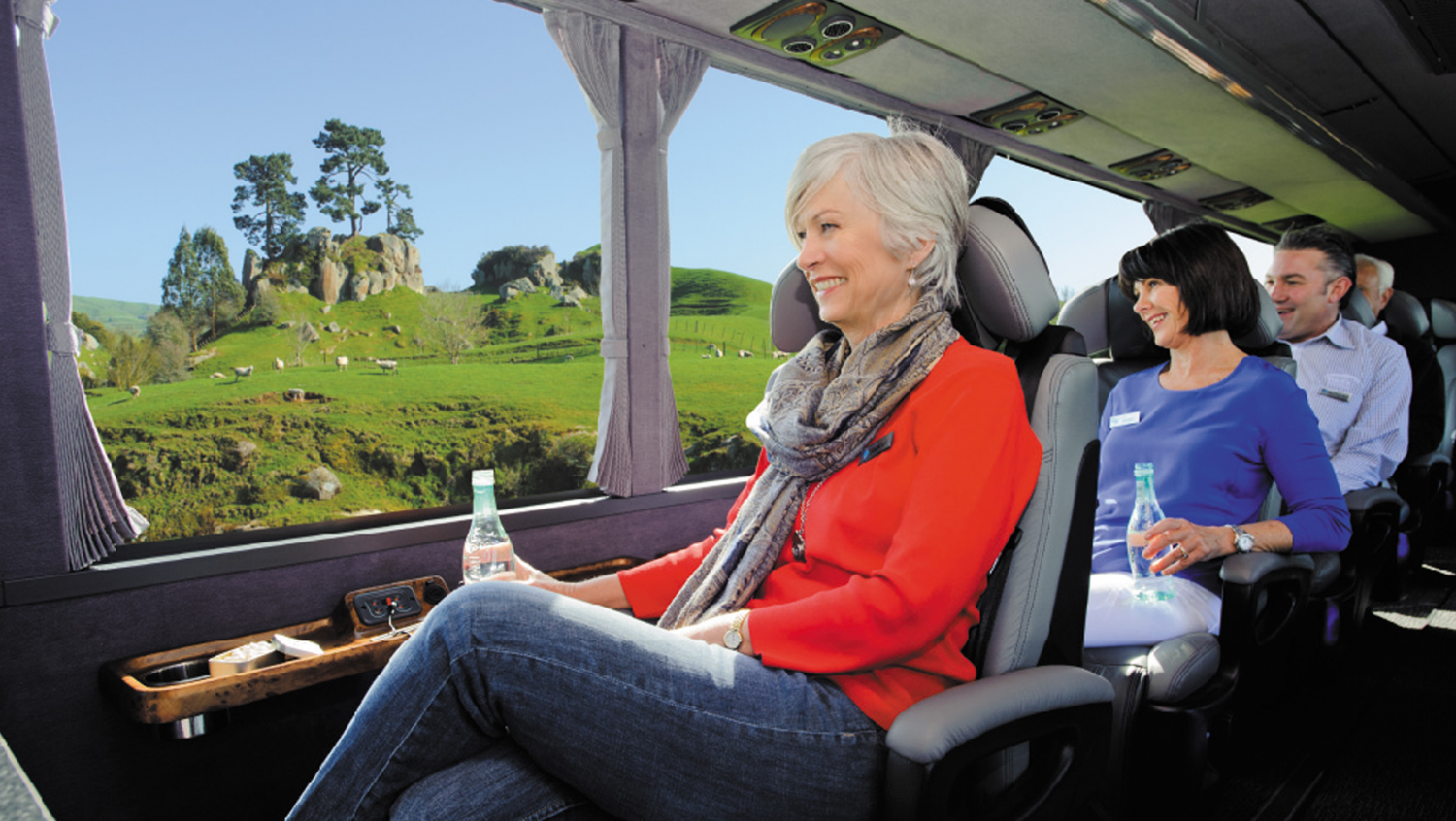 Ultimate - The Luxury is in the Detail
Grand Pacific Tours offer innovative Ultimate Small Group Coach Holiday experiences, allowing VIP travellers unparalleled comfort on their New Zealand holiday.
The beauty of travelling aboard the Ultimate coach is that it's in a league of its own and not offered by any other operator.
Commonly known as "business class on wheels", our Ultimate coaches cater for a maximum of 20 guests on a purpose-built full-size coach, enjoying premium 4.5 star accommodation, personal service and value-added experiences, as well as priority access to attractions and a deluxe travel set.
The Ultimate Small Group Touring Coach
Small group travel allows for a more intimate and personalised experience with opportunities for authentic experiences you would be unable to do on your own. Spend less time checking into hotels and more time exploring the sights!
We listen to our travellers feedback post tour and review our itineraries and inclusions to continually improve the experience, all the while remaining conscious of the challenges our travellers may face when booking a holiday.
See what some of our previous travellers have to say about our Ultimate Small Group Tours.
---
The value and scope of the tour is extraordinary, every attention is given to passenger comfort and preference. The single seat configuration was the initial attraction for me. It is spacious and very comfortable, allows for privacy/quiet. I would certainly highly recommend Ultimate. Excellent and comfortable hotels. I preferred the smaller ones – more character and charm. M.M. (VIC)

---

I did not know about the "Ultimate" coach features until after booking – I saw it via the online video!! The carry-on bag we received was a great surprise – including the unique storage design at the seat. I used the USB charging facility to my advantage. K.Z. (SA)

---

The whole tour was absolutely perfect. This coach is the best and most luxurious I have ever been involved with. The looks, seating and layout – congratulations to all involved. "This is a mighty Scania" W.W. (TAS)

---

Pristine condition. Comfort – outstanding. Didn't matter where we were sitting – completely unimpeded views. Seat rotation worked well. J&J.P. (VIC)

---

My husband and I have travelled twice before with Grand Pacific Tours on 19 Day trips but this was our first time on the Ultimate coach and we fully appreciated all the points of difference. I have been on a number of tours – London to Rome, back road tours of Scotland and Ireland and this tops them all – the seat roster is brilliant! I.N. (QLD)

---

Very pleased with the experience as I had not been to NZ before and I found this tour was a relaxing way to do it - appropriately spaced comfort stops. Loved the fact that in most places – tables, seats etc were reserved for Grand Pacific Tours groups. G.U. (UK)

---

We were attracted to the small group tour, the itinerary and the included attractions – plus a little bit of luxury!!! Didn't disappoint! D.M. & C.A. (SA)

---
> Click here to learn more about Ultimate Small Group Touring.
> Read More