---
Top of the South Island 26 May 2022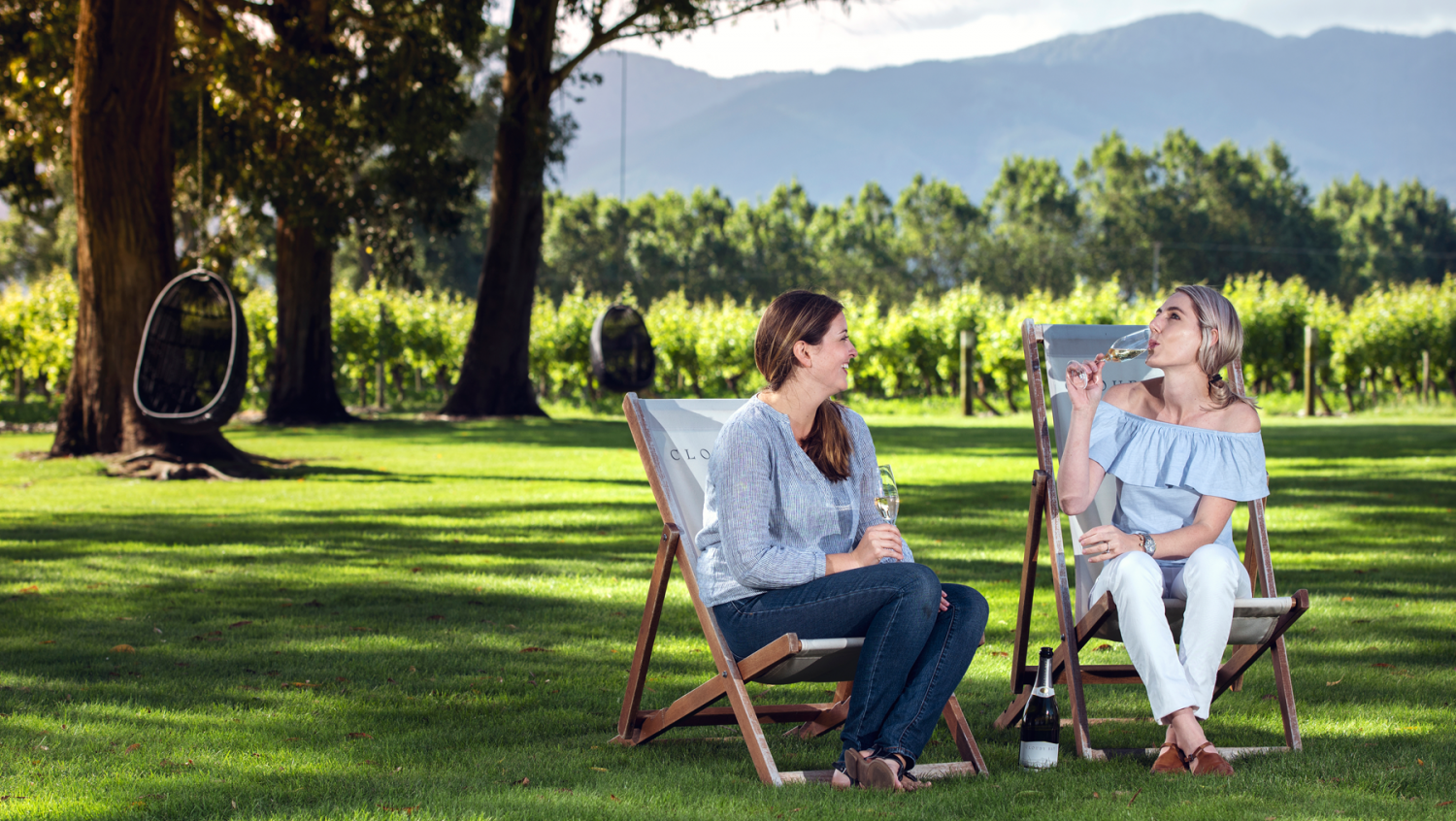 Wine, wildlife and wilderness
11 Day Top of the South Island - Previewing a new route for Grand Pacific Tours centered around South Island treasures seldom seen on tour itineraries.
It's the colour of the water that gets me
Today, the most vivid shade of turquoise stops me in my tracks as we emerge from dense rainforest at the Hokitika Gorge swing bridge. The river flowing by stark white rocks below is as opaque and gleaming as a thick coat of OPI. It's like nature just turned a light on. The colour is no less arresting than the poster shot that compelled me to seek out this magic spot, following a wacky scenic route of right-angled turns around farm paddocks 33km inland from Hokitika city. That's the thing about the South Island wilderness; it truly is as beautiful as touted.
Yesterday, it was the aqua braids of the clear and fast Waimakariri River inciting gasps of delight as they were revealed at each of four viaducts splicing five tunnels along the most talked about part of the famous TranzAlpine rail journey. We had alighted at quaint Moana Station right alongside serenely beautiful Lake Brunner and its mirror reflections of forested peaks across the water.
The day before that, the stunning teal of Akaroa Harbour entranced as we cruised the extinct volcanic crater, sailing into sea caves and beneath towering lava cliffs. All the more so when Hector's dolphins began frolicking alongside and we were lucky enough to spot some of the world's smallest penguins, the White Flippered.
Akaroa Harbour Nature Cruise
We're following a new coach tour route that circles the top half of the South Island from Christchurch. In a first for New Zealand coach tour itineraries, Grand Pacific's Top of the South Island tour is designed to get off the main tourist highways and venture to idyllic hideaways like Lake Brunner and the Hokitika Gorge on the West Coast, Abel Tasman National Park in Nelson and the Marlborough Sounds.
These are the outdoor havens that Kiwis themselves love to holiday in and some of my favourite spots in this spectacular country," Grand Pacific Tours Managing Director Peter Harding tells me. "I've personally worked on this exciting new itinerary for two years and am really proud to offer a tour of a special part of New Zealand with experiences you won't find anywhere else.
Case in point is the lunch Pete's arranged at Moana's Kingfisher Restaurant, where convivial locals share their secrets for catching and cooking the West Coast delicacy, whitebait fritters.
A more active coach tour
The other thing that is different with the Top of the South Island is that it decidedly targets a more active older traveller. The tour has been designed in response to the growing number of us "not-so-oldies" who want a more engaging experience of New Zealand's remarkable landscape and wildlife. Coach transfers are kept to a minimum, with 1.5 hours the norm and the longest journey, from Kaikoura to Christchurch, a very scenic 2.5 hours taking in one of the finest coastal drives in the world.
That means when the coach reaches exceptionally pretty places like Kaiteriteri in the Nelson region there is time to wander its famous golden sands, linger over a latte or browse boutique shops for gifts or treats. That there is time to enjoy four scenic walks along the 11-day journey. Most require less than an hour's exertion to experience natural wonders like the extraordinary 'stack of pancakes' rock formations and blowholes of Westland's Punakaiki (aka Pancake Rocks) as they are pounded by the relentless Tasman Sea.
Punakaiki Pancake Rocks
An hour's drive north along the wildly beautiful West Coast the next day reaches another short walk along a rocky headland to Cape Foulwind, one of many New Zealand landmarks named by Captain Cook. Depending on which way the wind is blowing you might catch a malodorous whiff of the New Zealand fur seals which make home here.
The standout walk for me comes halfway through the tour when we leave the highway far behind to cruise into the heart of the Abel Tasman National Park on the northern coast. There is no road access to this coastal treasure, it's either boat-in or walk-in along the Abel Tasman Coast Track, one of New Zealand's famed Great Walks. Our leisurely cruise from Kaiteriteri traces this tropical-like coastline of sheltered coves, sparkling beaches and sandstone cliffs cloaked in lush native bush. At Medlands Beach we disembark for a 90-minute return guided walk to Bark Bay Falls Swing Bridge shaded by magnificent tree ferns that open to blissful sea views. As cicadas hum and bellbirds sing, our passionate guide fills us in on points of interest and sorts out our Manuka from our Kanuka (native tea tree).
Abel Tasman Cruise
The track is still sturdy shoes, rather than hiking boots territory and as we return to Medlands Beach we rejoin our vessel and cruise south to Anchorage. We're greeted there by a long golden beach and the wide smile of Darryl Wilson. His family have been welcoming guests to this slice of heaven since 1841 he tells us as he hosts a delicious BBQ lunch on board. Most precious of all, there's time to swim, stroll and sun bake and simply be present in this magic moment.
Foodie havens
We travel onwards along the inland Moutere Highway past apple, pear and kiwifruit orchards, berry farms, hop fields and vineyards. We make a pitstop at the oldest pub in New Zealand, the Moutere Inn, to sample some of the country's best craft beers. The region's ciders and wines are equally glorious.
On our free night we dine on local truffles, scallops, snapper, and sheep cheese, we devour a champion Seifried Sauvignon Blanc, the local wine that scooped its dominant Marlborough neighbours in the 2019 New Zealand Wine of the Year Awards.
The Nelson region is synonymous with sunshine and good living. It attracts talented artisans of food and drink, fashion, ceramics, crafts, glass and wood. All on show as we explore the city sights on an orientation tour. A destination where all the best parts of New Zealand are condensed into a single place, with great energy, a vibrant culture and a range of stunning landscapes and natural beauty.
Tastebuds piqued, we're excited to drive on over the hills via Havelock, at the head of Pelorus Sound, and through one of the world's great wine regions, Marlborough. Here, the climate and soils combine to produce exceptional white and red wine varieties. More than 35 cellar doors intersperse row upon row of immaculate vines that traverse the Wairau Plains and rolling Awatere Valley.
We arrive at our destination, the Omaka Aviation Heritage Centre. Home to one of the largest private collections of WW1 Aircraft, brought to life in sets created by the internationally acclaimed WingNut Films and Weta Workshop. I leave with the greatest appreciation of historic aircraft.
Back in central Blenheim we enjoy lunch at a local beer garden before being treated to another standout wine tasting at Cloudy Bay Estate, one of the original wineries in the region. We bypass the swish cellar door for a private tasting in the atmospheric barrel hall of the sparkling, sauvignon blanc, chardonnay and pinot noir the winery is esteemed worldwide for. Time allows us to wander through the superb, manicured grounds and towering gum trees, another stunning highlight of the trip.
The royal treatment continues the next day when we board a luxury launch in nearby Picton for a cruise of the exquisite Queen Charlotte Sound to Furneaux Lodge. At lunch, we devour fresh, local, seasonal cuisine partnered with a crisp and aromatic Marlborough Riesling. Followed by a peaceful walk around the tranquil grounds enjoying picturesque views of Endeavour Inlet, native New Zealand bush; and the beautiful Lodge itself.
Furneaux Lodge
On the return cruise to Picton we yet again are spoilt with kiwi hospitality including a cheese platter featuring local produce, accompanied by a glass of Marlborough wine; the perfect end to our Marlborough Sounds adventure.
All too soon our tour is homeward bound, heading south back to Christchurch, and today's drive proves to be the most scenic yet. As we near our overnight destination in the wildlife epicentre of Kaikoura, the highway runs right alongside the dazzling Pacific Ocean as it breaks endlessly on iron grey sands. Inland, green pastures rise to the stupendous Southern Alps. We readily spot hundreds of chocolate brown NZ fur seals sprawling atop kilometers of craggy rocks uplifted five metres from the seabed in the magnitude 7.8 earthquake in November 2016. Occasionally, large pods of Dusky Dolphins leap high above the waves close to shore. They, along with a year-round sperm whale population, congregate here because of the 3km deep Kaikoura Canyon just offshore that sustains a rich marine food chain, including succulent crayfish ('Kaikoura' in Maori means crayfish).
Assured the chance of spotting a whale is virtually guaranteed, we seize the opportunity for a scenic flight. Our pilot quickly locates a 16-metre sperm whale as it surfaces and, enthralled, we circle the majestic creature until it dives back into its feeding grounds.
We too, then must descend to earth, quietly contemplating yet another Top of the South experience that's been nothing short of extraordinary.
The 11 Day Top of the South Island itinerary is available on the Ultimate 20 seat coach and the Signature 32 seat coach.
> Click here to view the 11 Day Ultimate Top of the South Island tour

> Click here to view the 11 Day Signature Top of the South Island tour
---
Written by Gaynor Morgan
> Read More