---
New Zealand 13 July 2023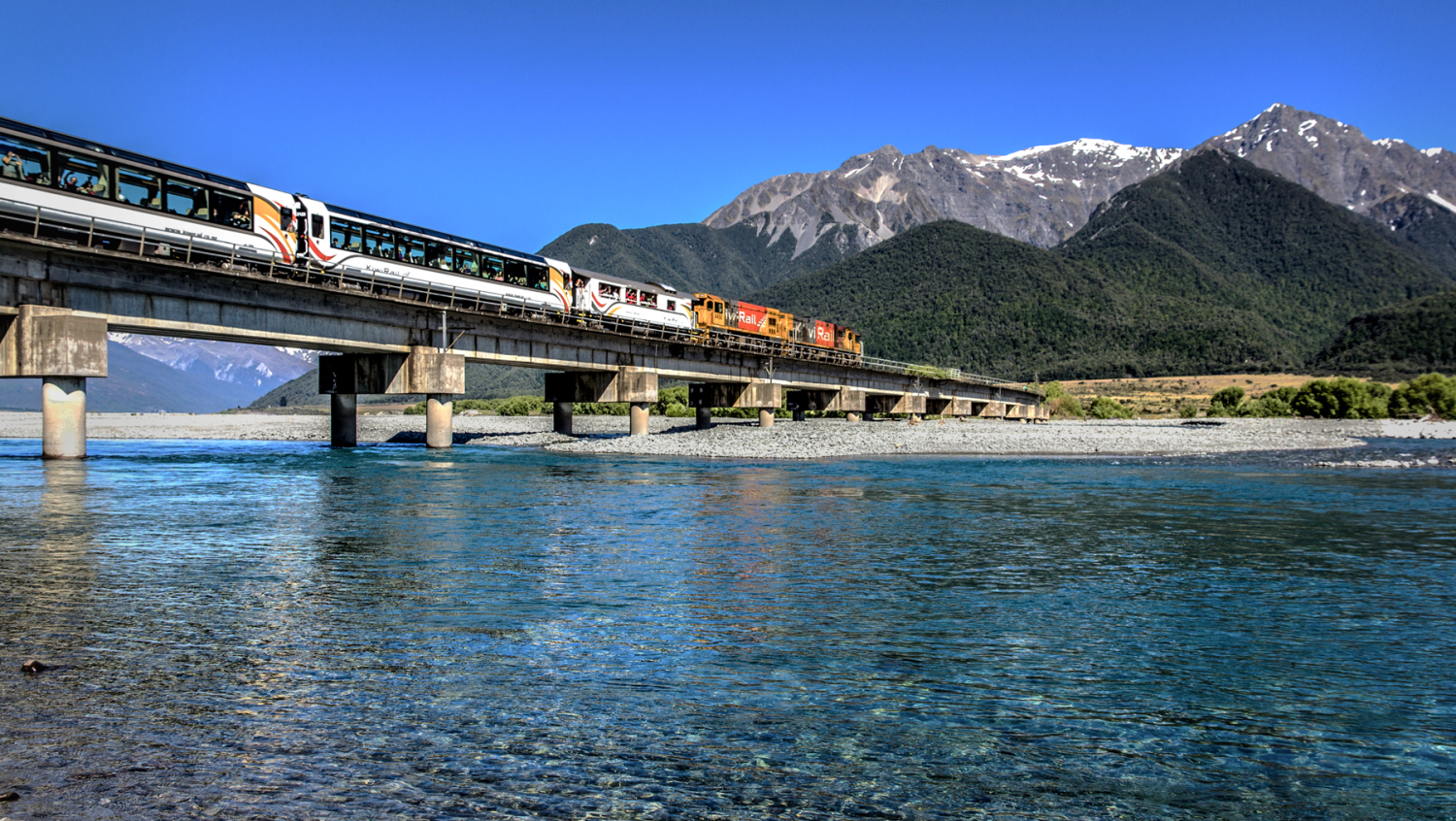 World-renowned TranzAlpine Rail Journey
The journey of a lifetime
Climb aboard one of the world's most famous train journeys, the TranzAlpine. Starting in Christchurch on the east coast of the South Island, the TranzAlpine begins its journey by roaming across the vast patchwork plains of Canterbury - one of New Zealand's primary agricultural regions. On the far side of the plains, you will arrive at Springfield, where the Southern Alps rise from the plains like megalithic skyscrapers, creating a seemingly impenetrable barrier.
The section between Springfield and the township of Arthur's Pass is considered a masterpiece of railway engineering and is the section for which the TranzAlpine is most famous.
The route firstly heads north-east to join the Waimakariri River gorge. This aqua-blue river will appear and disappear out of your window several times as the TranzAlpine clings and climbs up the cliffs above it. During the ascent to the high plains of Craigieburn, there are 15 short tunnels and four dramatic viaducts, including the 72-metre-high Staircase Viaduct.
The most iconic views come at the far end of the Craigieburn Straight, where the high plains stretch out to give a stunning view of Mount Binser and the edges of Arthur's Pass National Park. Shortly after, the train meets again with the Waimakariri River and then crosses it to reach Arthur's Pass. This section is stunningly beautiful and is where the famous views of the TranzAlpine crossing the Waimakariri River are taken.
Sit back and relax in world class scenic carriages
Travel on World class scenic carriages designed in New Zealand, featuring wide panoramic side & roof windows, with un-tinted and non-reflective glass allowing for great photo opportunities. Open air viewing decks ensure nothing gets in the way of your camera. Enjoy spacious and comfortable seating, heated carriages, wheelchair access, generous baggage allowances, and a number of other facilities to enjoy your on-board experience.
*Please note - some of our itineraries travel on the TranzAlpine in reverse order, starting in Arthur's Pass and finishing in Christchurch.
> Read More